Asia's travelers are back with new preferences and expectations
3 min read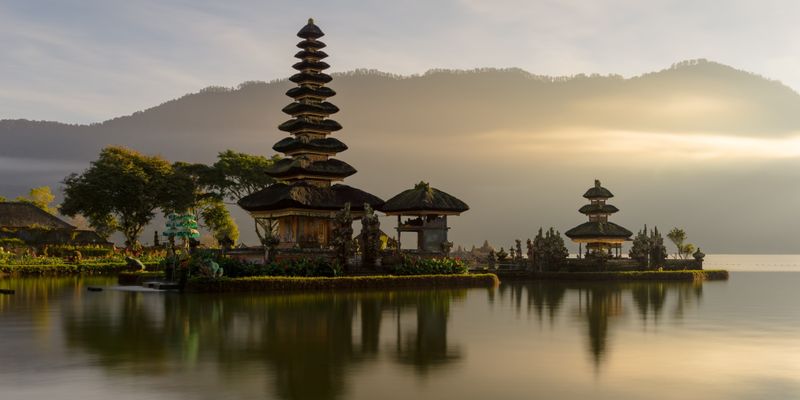 Since the onset of the
pandemic the travel industry has dealt with a great amount of adversity –
particularly in Asia. But now the tide is finally turning. Travel demand in the
region started picking up toward the end of last year and has continued
accelerating during the past months.
The gradual opening of the
borders in Southeast Asia and Australia has been the much-awaited catalyst for
consumers to turn their pent-up international travel demand into action and
begin traveling again. Search insights also show that these travelers have
emerged from the pandemic with new mindsets and preferences.
Travel is resurgent and the
recovery is accelerating
Travelers across
Southeast Asia and Australia have been resuming outbound travel with a
vengeance. Domestic demand has almost reached pre-pandemic levels – Malaysia
and Indonesia have already surpassed 2019 demand – and international demand is
picking up fast.
Australia is leading the
way – outbound travel interest grew from just 47% of pre-COVID levels in
January to 96% in March. The Philippines and Indonesia are back to 70% of the
2019 demand. Following the announcement to remove most international travel
restrictions in the last week of March, Singapore's demand jumped to 85% that
week, up from 65% the previous week.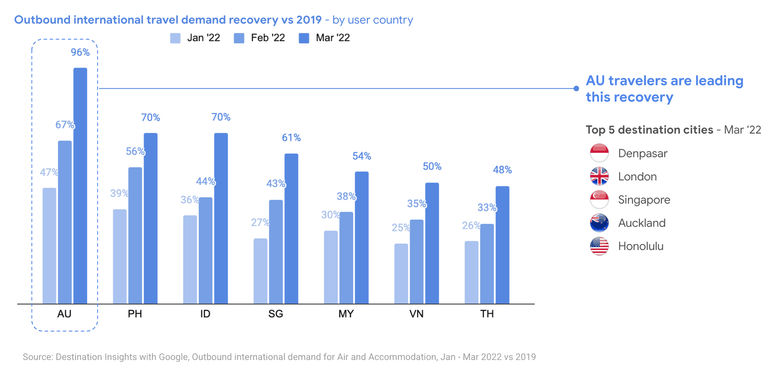 Similarly, inbound travel interest to
the region is recovering rapidly. The Philippines, Australia and Indonesia are
the leading destinations in the region, with interest in the Philippines and
Australia already exceeding pre-COVID levels.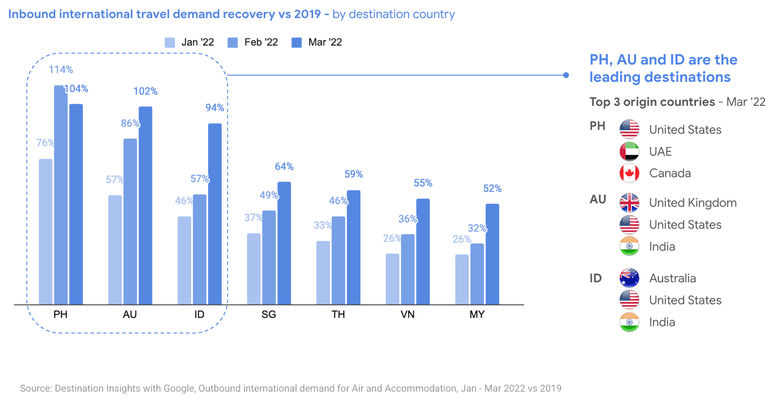 New preferences are
driving consumer decisions
Search trends show that travelers have emerged
from the pandemic with new preferences and heightened expectations.
Understanding and addressing them can help travel businesses make the most of
the opportunities that resurgent travel demand in the region creates.
Digital
is more embedded into the travel journey than ever before. Travelers use
digital platforms across the entire travel journey – from seeking inspiration
and booking the trips, planning itineraries and navigating on the ground, to
sharing their experiences online. Digital natives now dominate the region's
population pyramid; millennials and Gen Z comprise half the population in
Indonesia and the Philippines – the two largest countries in the region.
Travel
planning is more meticulous than before. In the current complex travel
environment people spend more time planning their holidays. For example, there
has been a significant growth in the number of searches related to travel
requirements and travel insurance.
Appetite
for longer stays is growing. Remarkable demand growth in searches for
vacation rentals is potentially a sign of longer travel durations, interest for
more exclusive accommodation or the blurring lines between work and travel.
Travelers
have a preference for luxury. Growing demand for luxury and
wellness-focused travel shows that people are searching for premium travel
options, potentially to pamper themselves, recharge and disconnect from their
daily lives.
Sustainability
consciousness is growing. The pandemic has accelerated the shift toward
conscious consumption. Ninety-one percent of the respondents in a recent study
said "important" when asked "How important is sustainable tourism to you?"
Building on insights can help travel businesses unlock new
opportunities 
To make the most of this rapid recovery in travel
intent, travel industry players must ensure they are top-of-mind as travelers
turn their dreams into action. Having an appealing online presence and digital
tools that provide a smooth customer experience that minimizes travel friction
can help drive both interest and conversion.
Travel businesses should also tailor their messaging
and offerings to meet people's new preferences. Highlighting other in-demand
solutions and services that smoothen the travel experience is a good approach
for non-premium brands.
The accelerating resurgence of travel is an exciting
and pivotal moment that offers many opportunities for travel businesses to
delight travelers, exceed expectations and win new lifelong customers.
About the author…
Hermione Joye is sector lead of travel for APAC at 
Google.
https://www.phocuswire.com/asias-travelers-are-back-with-new-preferences-and-expectations