Horned Frogs in the News, Feb. 13-21
10 min read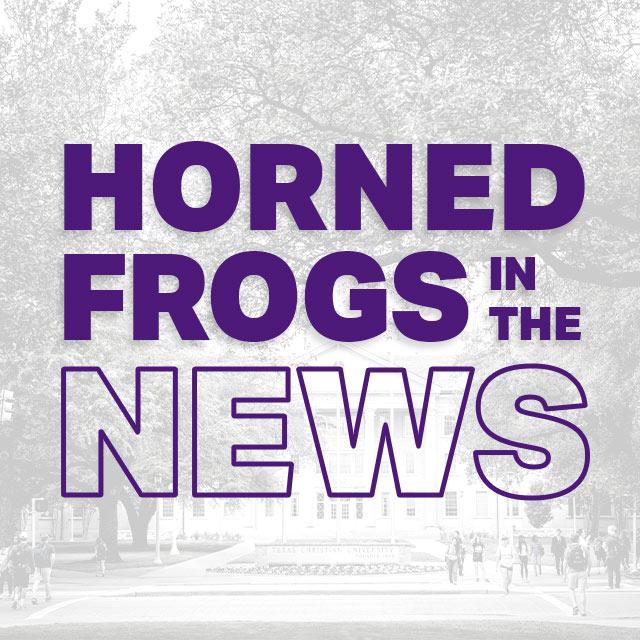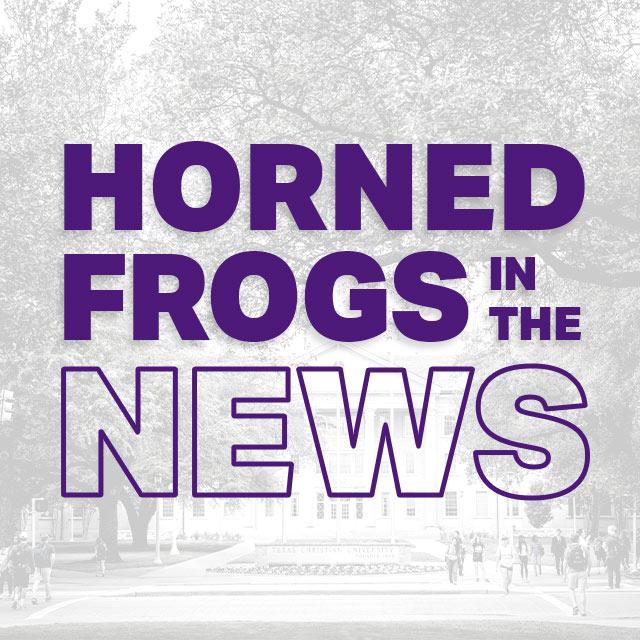 February 22, 2022
From assessing flu season to navigating NIL, and from spider research to Black history,
our TCU Horned Frogs are in the news.
INSTITUTIONAL
Fort Worth Fashion Week Kicks Off Feb. 21
Feb. 17, 2021 
Fort Worth, Texas Magazine
Fort Worth Fashion Week is a week of fashion events, including shows, presentations,
pop-ups and parties at different locations, such as art galleries, event venues and
retail stores, throughout Fort Worth each day of the week. Events run from Feb. 21-27
and includes a special exhibit at the TCU College of Fine Arts, where you'll get to check out the TCU Historic Costume Collection.
Attractive people have better immune systems, new research reveals
Feb. 16, 2022
The NYC Daily Post
It turns out beauty may be more than skin deep. Attractive people actually have better
immune systems, according to a new study published by the academic journal Proceedings
of the Royal Society B. For the study — which was published on Wednesday — researchers
recruited 79 women and 80 men at Texas Christian University, asking them to have their photos taken and their blood tested.
TCU's business school lending hand to athletes navigating NIL
Feb. 15, 2022
Fort Worth Magazine
The TCU athletics department and the acclaimed Neeley School of Business have partnered
to set the tone for the new world of college athletics with a course designed to empower
student-athletes and provide the tools to flourish in what has become known as the
era of name, image and likeness. "While in the short-term getting an NIL deal is a
big deal for some of our student-athletes, I think the bigger deal is long term —
you're setting them up with an entrepreneurial skill set they'll have for life, long
after leaving TCU. That's the bigger play here," said athletic director Jeremiah Donati. The genesis for the class was a lunch meeting between Donati and Daniel Pullin, John V. Roach Dean of the TCU Neeley School of Business, two years ago to start
a conversation about ways athletics and the business school could better collaborate
for students and a discussion of the great prevailing issues that could be coming
down the pike. "Over those two years we were able to devise what we believe is a leading
approach," Pullin says, a unique value proposition, he adds. 
Gun violence remains the biggest threat to public safety in Fort Worth, police chief
says
Feb. 15, 2022
Fort Worth Star-Telegram
The number of people in Fort Worth injured or killed by gunfire in 2021 was more than
double from 10 years ago, Police Chief Neil Noakes (MS '19) told City Council members Tuesday. Noakes said his department is finalizing an agreement
with TCU to study the Police Department's efforts to work with community groups and reduce
violent crime. He told the council he would share more information once that study
was complete.
A conversation with Jason Safran, Texas Christian University's new chief investment
officer
Feb. 14, 2022
Chief Investment Officer
With over 20 years of experience in institutional investing and nine years of experience
as a member of Texas Christian University's endowment staff, Jason Safran said being named CIO of TCU's $2.4 billion endowment fund was his "dream opportunity."
His connection to the school is also personal—he graduated from TCU in 2001. "Especially
when it's your alma mater, there's just that satisfaction of investing for the students,"
Safran said.
FACULTY
TCU prof, 2020 Cowtown Marathon winner Darda bringing his A-game to Austin Marathon 
Feb. 21, 2022
Austin American-Statesman
While the Austin Marathon course has its share of hills, Joseph Darda — the winner of the 2020 Cowtown Marathon in Fort Worth — doesn't expect anything
like that in Austin. Darda, 34, ran track and field as well as cross-country for the
Washington Huskies and now is an associate professor of English at TCU. One of the
courses he teaches is Sports and American Literature, where students examine what
sports clichés might tell us about the national culture that created them. (Editor's
note: He finished in seventh place.)
Historically Black community tries to make voices heard on Fort Worth City Council 
Feb. 20, 2022
Fort Worth Report
Since the 1900s, Como has remained an island of Black residents in a sea of white
communities. Frederick W. Gooding Jr., TCU's Dr. Ronald E. Moore Honors Professor of Humanities, said the origins of the
Como community have profoundly impacted how elected officials prioritized the neighborhood. He
said the unique challenges Como faces are the result of compounding failures to address
the communities' needs, which stems from their lack of voting power in a district
where the majority of other residents are white and wealthy. "The Como residents are,
unfortunately, the latest victim of this pattern, and now they are bringing attention
to it by speaking out about it," Gooding said. 
Fort Worth and the Green Book Exhibit 
Feb. 20, 2022
KDFW-TV
The Fort Worth Museum of Science and History is celebrating Black History Month with
an interactive exhibit on the history of the Green Book. "We made it purposefully
interactive because we want for people to wrestle with the idea that we had this difficult
history," said Frederick Gooding Jr., Dr. Ronald E. Moore Honors Professor of Humanities and curator of the exhibit. There
also will be a lecture on Feb. 21.
In twilight of life, civil rights activists feel 'urgency to tell our history'
Feb. 19, 2022
The New York Times
Young people who marched and organized during the civil rights movement are now in
their 70s and 80s. With fewer and fewer remaining, historians rush to record their
stories. Briana Salas, a Ph.D. student at TCU and oral historian, said the pandemic had complicated her
efforts over the last two years to reach activists from that generation. "We want
to be able to protect them," she said. "It's a serious issue." An aging activist called
Max Krochmal, TCU history professor, "I have more to share," she said, welling up. Professor Krochmal
took out his recorder and listened.
Contentious or just plain nasty? Republicans Price, O'Hare slug it out in County Judge
primary
Feb. 17, 2021
Fort Worth Business Press
The Republican race to succeed retiring Tarrant County Judge Glen Whitley has become
unusually contentious as the two front-runners scramble to sway voters. Early voting
in the March 1 primaries continues through Feb. 25. The ideological divide in this
race is typical of races up and down the ballot, locally and statewide, according
to James Riddlesperger, political science professor. "Tim O'Hare is known as a 'social conservative' who
claims to represent the 'real' Republican party," Riddlesperger said. "Most people
know Betsy Price in her nonpartisan role as mayor but she has run and won a countywide
race for tax collector-assessor as a Republican. "I think it is optimistic thinking
that he can be competitive in the county judge race, given Betsy Price's name recognition,
but it is not out of the question," Riddlesperger said.
Flu season in Dallas County turned out to be mild, despite recent omicron surge Feb. 16, 2022
The Dallas Morning News
So far this year, Dallas County has had a mild flu season despite the rapid spread
of the omicron variant of COVID-19 over the past several weeks. It's possible that
omicron is even more contagious than the influenza virus, said Dr. Grant Fowler, family medicine department chair at TCU School of Medicine. "I think omicron is
probably more contagious than the flu," he said, "and I think people are just really
hopefully trying to prevent the omicron."
Philosophical Society of Texas presents book prizes for fiction, nonfiction and poetry
Feb. 16, 2022
The Gilmer Mirror
The Philosophical Society of Texas announced its annual Book Prizes for fiction, nonfiction
and poetry during the Society's Annual Meeting. The nonfiction prize was awarded to The People's Revolt: Texas Populists and the Roots of American Liberalism by Gregg Cantrell, history professor and director of graduate studies. An honorable mention for nonfiction was given—to George T. Ruby: Champion of Civil Rights in Reconstruction Texas by Carl H. Moneyhon, published by Texas Christian University Press.
MTSU alumni, mentor find international acclaim from spider research
Feb. 15, 2022
Murfreesboro Voice
A group studying riparian spiders are part of a recently published collaboration receiving
international notoriety. The enterprise was led by Matt Chumchal, director of the TCU Pre-Health Professions Institute, biology professor and researcher,
who said the project collaborators "propose using spiders as a cost-effective approach
to monitoring pollution in the environment."
Geothermal energy is on the cusp of taking off in Texas. TCU professor explains how
Feb. 14,2022
Fort Worth Report
TCU geological sciences professor John Holbrook is tracing the path of geothermal energy from a niche research area to becoming the
next economically viable source of clean energy. Holbrook is part of the research-driven Texas
Geothermal Institute, which launched last month in an effort to provide oil and gas
companies with a roadmap for the remaining technology gaps and potential funding opportunities
in geothermal production. "Geothermal is a natural fit for this. This is sustainable
energy coming from the earth," he said. "It's something that we have plenty of. It's
one of those areas that, with a little bit of advancement, a little bit of attention,
a little bit of love, could become an actual viable energy source." 
Tim O'Hare, Betsy Price frontrunners in Republican primary for Tarrant County Judge
Feb. 14, 2022
KDFW-TV
The Republican primary for Tarrant County Judge is one of the most attention-getting
races in the region this election cycle. There are five candidates for the open seat,
but the front runners are former Fort Worth Mayor Betsy Price and former Tarrant County
Republican Chair Tim O'Hare. James "Jim" Riddlesperger, TCU political science professor, says O'Hare is not well known. "Among Republican
activists he may be well known but that's only a small portion of people who'll participate
in the primary," Riddlesperger said.
Here & Now: A Conversation with Kenny Thompson Jr.
Feb. 13, 2022
KDFW-TV
The TCU Neeley School of Business hosted a new speaker series, Against All Odds. The
idea is to give real-world insight to students about corporate responsibility, social
impact and personal advocacy in the workplace. The series featured TCU Board of Trustee
member Kenny Thompson Jr. '03. "It is a unique opportunity for us to directly connect with students and share our
experiences on how we got to where we are. David Russell '12 said these interactions are critical. "I always came back to these conversations
that I would have about alumni that would come back to campus," Russell said. "They
would talk to their professional experience, but they would also talk through their
decision making.
Can a move toward the right win over voters in Texas primaries?
Feb. 13, 2022
Fort Worth Star-Telegram
The polarization among Republicans has increased the past 50 years as the party's
dominant force switched over to the conservatives, said James Riddlesperger, professor of political science. "Donald Trump is the symbol of the Republican Party
right now, and these very conservative candidates are all trying to demonstrate that
they're kind of 'Trumpier' than the moderates," Riddlesperger said.
STUDENTS
Fort Worth Medical Students Step Up to Donate Shoes to Kids in Need
Feb. 19, 2022
KXAS-TV
Medical students at the TCU School of Medicine helped 50 students from Fort Worth's
Stop Six neighborhood live their sneaker dreams. Sam Sayed, a second-year medical student, was inspired by an act of kindness from his big sister
Dayna. "One summer she surprised me and our brother and she said, 'hey, let's go to
the shoe store, and choose any pair of Nikes you wanted,'" said Sayed, co-founder
of Dayna's Footprints.
We Seem To Find People With A Strong Immune System More Attractive
Feb. 16, 2022
BIZ News Post
Men and women are more physically attracted to the faces of people who have higher
functioning immune systems that might protect them from diseases over their lifetimes.
"There's nothing inherently special or beautiful about a face that we find attractive,
so the theoretical rationale is that there must be something over the thousands of
years of evolution that has been consistently rewarded in our mate choice, and that
we find these specific traits attractive," says Summer Mengelkoch, Ph.D. candidate. "Perhaps it's a cue to people's genetic qualities, including their
immune function and [the capacity to] pass on that good immune function down to their
children."
ALUMNI
Fort Worth's Silver Creek Materials launches partnership with Dallas Zoo for manure 
Feb. 19, 2022
Fort Worth Star-Telegram
A two-year long project between Silver Creek Materials and the Dallas Zoo has finally
come into fruition with the launch of "Zoo Poo" – an organic compost made of manure
from herbivore animals at the zoo. Jared Williams (MS '14) recalled working on the Silver Creek Materials property when he studied environmental
science. "It was at TCU when I got my hands in a lot of poo that came from Silver
Creek Materials," Williams laughed. "I remember shoveling, shoveling, shoveling, and
I started getting used to the smell. I would come home and my mom would say 'Man you
really stink,' and I'd say 'Yeah, but I love it.' But what I realized at TCU, thanks
to my professors and being around the materials, is that conservation is important,
whether it's at the zoo, or on the road … [this is] incredible work for our ecosystem
and the people who depend on it."
ATHLETICS
TCU football's new ace recruiter Bryan Carrington tackles his next passion project
Feb. 14, 2022
Fort Worth Star-Telegram
Bryan Carrington is selling TCU and its football program to prospective players, whether they're in
high school or the transfer portal. He's the recruiting coordinator and an offensive
analyst under coach Sonny Dykes. "TCU will be a hat on the table for a lot of the top kids," Carrington said. "When
you look at the landscape where the Big 12 is headed, there's no excuse for TCU not
to be a Tier 1 Big 12 team moving forward. The stars are aligning here."
After 13 seasons and a team change, Highland Park's Matthew Stafford is a Super Bowl
champ
Feb. 13, 2022
WFAA-TV
The Los Angeles Rams became Super Bowl Champions Feb. 13. North Texas has a lot to
be proud of as Rams players from the area included linebacker Travin Howard of TCU.
https://www.tcu.edu/news/2022/horned-frogs-in-the-news-feb-13-21.php