Cruise ships have slowly returned to service (or have solid plans to do so) on every continent, save one: Australian officials have not, so far, included cruising in the nation's reopening plan.
And for those who followed the cruise industry's battle with the CDC to restart cruising in the U.S., the one between cruise stakeholders and regulators over Australia's cruise ban will sound very familiar.
The industry and its supporters Down Under are fighting the ban using CLIA North America's playbook, imploring regulators to treat cruising like other forms of leisure and to at least listen to how ships will keep passengers safe.
The end date of Australia's cruise suspension has been a moving target. The pause currently runs through Dec. 17, a date that remains in place even as Australia prepares to reopen its borders to outbound travel next month for the first time since March 2020.
No official timetable for cruise resumption is even being discussed, according to CLIA Australasia.
"Australia has long been one of the world's strongest cruise markets, so it's especially frustrating to see our region fall so far behind other countries," said Joel Katz, CLIA managing director for Australasia, adding that Australia is one of the only major global cruise markets "with no clear plan for cruising's revival." 
Katz said that despite active lobbying by CLIA and cruise lines over the past year, the government has made little progress in adopting a framework for cruise resumption. However, Katz said last week that while "the political climate in this region has been especially difficult, in recent weeks there have been signs that our message is being heard."
Echoing the frustrations of cruise executives and CLIA during the year prior to cruising's resumption in the U.S., Katz said last month that discussions with Australian government agencies had "gone nowhere" and that officials had ignored the industry's outreach. 
With Australia's peak cruise season starting now, many cruise lines have already given up on this year and will return in 2022.  
Holland America Line canceled all of its ships that were supposed to be in Australia and New Zealand early next year. Princess Cruises pushed its sailings to the end of January. Celebrity Cruises will return in September 2022. Royal Caribbean International canceled the Ovation of the Seas' summer season out of Sydney, citing Australia's continued cruise ban. 
Lines are mostly letting CLIA voice its frustrations, but some are speaking out. 
"The entire industry in Australia is feeling left out as we see a restart plan for other travel industry sectors, such as international flights," said Sarina Bratton, Asia Pacific chair for Ponant, adding that Ponant's health protocols "have proven to be extremely successful onboard our ships in other parts of the world."
Two Ponant ships have been anchored in New Caledonia in the South Pacific for 18 months awaiting Australia's reopening.
With Australia's plan to reopen outbound travel in motion, CLIA called it "absurd" that Australians will be able to cruise abroad but not from home. It is one of several points that mirror those used here earlier this year, when Royal Caribbean, Norwegian Cruise Line and other brands said they would launch cruises for Americans as close to home as the Bahamas and Bermuda while ports on U.S. soil were still shuttered.
Much like their North American counterparts, CLIA noted that when Australians cruise abroad, it does nothing to support domestic tourism recovery or the 18,000 Australians who rely on the industry for their livelihoods.
And just as U.S. lines and stakeholders pointed to the thousands of passengers who had been sailing in Europe and Asia prior to the reopening here, CLIA Australasia argues that "more than a million passengers have sailed successfully in countries where cruising has resumed — with strict health protocols in place — but in Australia our calls for detailed discussions with health authorities have been ignored."
Last year, cruise lines in the U.S. warned that, given the time it takes to get cruise ships ready to sail — as long as 90 days — the summer season would be in jeopardy if there was no resolution by mid-spring. Cruise advocates in Australia, whose seasons are the reverse of countries in the Northern Hemisphere, are now issuing the same warning.
"We need governments to break the cycle of inaction and discuss how to put plans in place now so that we're ready as conditions improve and vaccination rates rise," Katz said.
At Ponant, for example, Bratton said: "Certainty and a timeline are required to allow operators time to mobilize their ships and crew." 
CLIA's Australia campaign to encourage stakeholders to lobby their representatives even has the same name as the one launched here: Ready, Set, Sail. It urges travel advisors and other supporters to message members of Parliament. The campaign resulted in 50,000 emails sent since it was launched June 15.
Katz said it has been working. 
"Several high-profile politicians have made very encouraging comments in support of cruising recently, which shows our message is being heard," he said last week. "We're also seeing a change in the discussions CLIA is having with governments. We're now seeing a new willingness to make progress, and we're hopeful our behind-the-scenes work with governments will show results soon."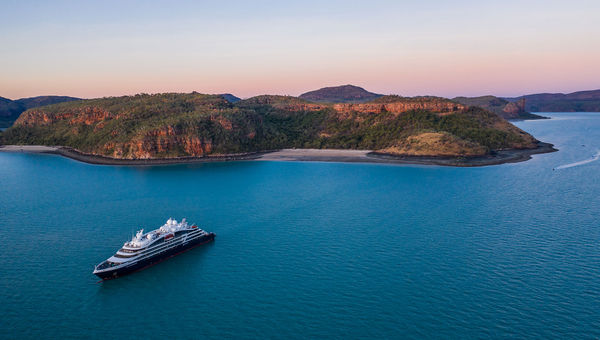 Ponant's Le Laperouse in the Kimberley region of Australia. Photo Credit: Nick Rains/Ponant
Travel advisors in the U.S. are also frustrated about Australia's continued cruise ban, which cuts off a lucrative long-haul product. Annie Scrivanich, senior vice president of Cruise Specialists, pointed out that it's not only Australia cruises that are impacted by the ban: With Australia out of play, many 2022 world cruises were canceled. Many such sailings, she said, typically spend a week visiting different ports and the Great Barrier Reef and is "definitely a highlight for most guests." 
"Australia was frequently the reason most lines either canceled or redeployed their world cruise departures," she said. "For Cruise Specialists, it resulted in an enormous loss of revenue and, once again, disappointed and displaced guests." 
Pent-up demand for Australia cruises 
And, similar to the U.S., the long pause has fueled pent-up demand, lines say.
"Having not cruised here for two seasons, there is huge demand for cruises in the region," said Tim Jones, Celebrity Cruises' vice president and managing director for Australia. He added that many Celebrity guests transferred bookings on canceled cruises to sailings in 2022-23. On several sailings, he said, the ship's all-suite Retreat section was "already almost completely sold out."
Jones said the reservations on the books come from "a really rich mixture of both overseas and domestic."
The Celebrity Eclipse is scheduled to launch five- to 18-day itineraries in September 2022, but the line hopes the situation is resolved well before then. 
One other similarity between U.S. messaging before cruising resumed and current messaging in Australia is the toggling between frustration and optimism.
"We all hope to see ships sailing our local waters again in early 2022," Celebrity said. "CLIA and member cruise lines continue to work closely with health and government authorities to secure a return to service in Australia and New Zealand as soon as possible."
https://www.travelweekly.com/Cruise-Travel/CLIA-fights-reopen-Australia-cruising