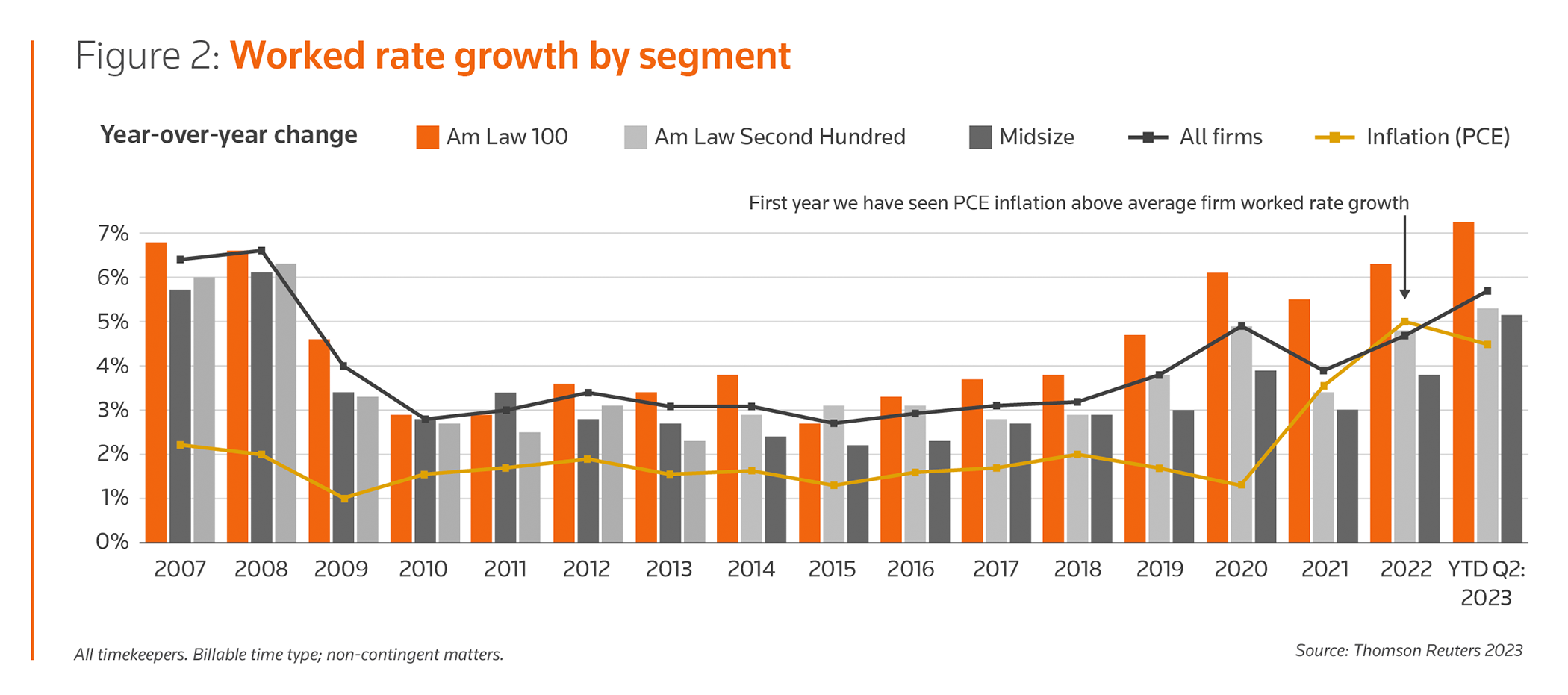 Law firm rates — what firms charge for legal work performed — are a strong driver of profitability, yet too many firms don't pay enough attention to the delicate dance of setting rates with clients
For most of the past decade, the growth in hourly rates for attorney time, especially in the context of filing a personal injury cases, has been one of the key drivers of the subsequent growth in law firm profitability. In fact, 2023 has seen record-setting growth in attorney rates, surpassing even the heady days of the seller's market for legal services that existed prior to the credit crisis of the late 2000s. Yet despite such remarkable progress, potential pitfalls still remain, according to the latest report from the Thomson Reuters Institute, Law firm rates in 2023: What's working, what isn't, and how to move forward in 2024.
At the outset, it's important to understand exactly what rates we're talking about. We track law firm rates in four different ways:
Standard rates — the headline rates law firms advertise, similar to the rack rate at a hotel
Worked rates — the rates clients agree to pay to engage a law firm on a new matter, typically reflecting a discount off the standard rate
Billed rates — the rates clients are actually billed by their law firm, after pre-bill adjustments by the law firm called write-downs
Collected rates — the rates clients actually end up paying after reviewing the invoice and making adjustments of their own, commonly called write-offs
We most commonly report on worked rates, as that category reflects both the efforts made by law firms to boost their rates as well as clients' willingness to absorb increases.
Through this lens, 2023 has been a remarkable year. All three law firm segments we track — the Am Law 100, Am Law Second Hundred, and Midsize (outside the Am Law 200) law firms — have seen the pace of rate growth far exceed the growth in worked rates even from the end of last year.
Of particular note, through the mid-point of 2023, Midsize law firms had grown their worked rates at a pace 1.3 percentage points higher than their 2022 average. And the Am Law 100 set a new benchmark for rate growth, as their average worked rates grew by 7.3%, a pace not matched in the history of our data set, even prior to 2007.
It would seem that law firms are enjoying essentially unprecedented success in growing their rates. Given that law firm rates have been the single most important driver of increased law firm profitability for most of the past decade — other drivers such as leverage, productivity, or expenses have either remained flat in terms of profitability motion or have actually produced a drag — law firms appear to be poised for another banner year in terms of profitability.
However, that's not the complete picture.
Indeed, rates are a crucial driver of profitability, but only so far as they drive law firm revenue. The other key components to revenue are the number of hours a law firm is able to sell — measured by a metric known as demand — and the percentage of the worked rate that is converted to a collected rate — measured by a metric known as realization. Both of these metrics serve to tell a slightly different tale for law firm profit potential.
Indeed, law firm demand has undergone a pattern of shifting, known as demand mobility, for much of the past two years, a trend that has favored Midsize law firms at the expense of their larger counterparts. At the same time, every law firm segment has seen their realization percentages decline for at least five consecutive quarters, cutting into profit margins and tarnishing an otherwise strong picture for law firm profits.
This special report from the Thomson Reuters Institute and the True Value Partnering Institute, offered at a time when many firms are engaging in rate setting for the coming year, explores not only the current and historical performance of law firm rates, but also provides deeper insight into these and other potential pitfalls that may negatively impact the growth of law firm revenue, and ultimately, law firm profitability.
---
You can download a copy of the Law firm rates in 2023 report by filling out the form below: