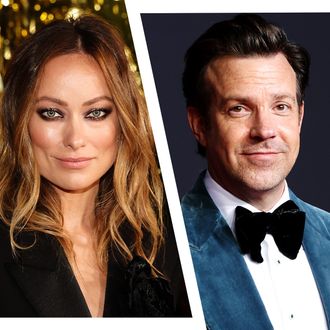 Exes.
Photo-Illustration: Vulture. Photos: Getty Images
Update August 16: Olivia Wilde and Jason Sudeikis won a legal battle with their former nanny, but have yet to win the war. A judge ordered the suit filed by the former couple's former nanny, Ericka Genaro, into arbitration. The two parties will have to settle out of court with the help of a private arbitrator. "We don't agree with the decision, but it is what it is," Genaro's attorney Ron Zambrano said in a statement. "This does not terminate the lawsuit. It merely changes the venue. As to the underlying facts, we've got text messages and testimony that she was driven to quit, then was summarily fired anyway. We feel extremely confident in the case so instead of taking this to trial, we'll handle it in arbitration and we're ready to move forward."
Original story follows.
This has been a breakup of epic proportions, and it shows no signs of slowing down. Among the many casualties of Olivia Wilde and Jason Sudeikis's uncoupling (the Don't Worry Darling press tour, Sudeikis's nice-guy image, etc.), you can now count Valentine's Day. The two (along with ML Management) were sued by their former nanny Ericka Genaro on February 14. Genaro is alleging that she was discriminated against when Sudeikis fired her over an osteopath-prescribed three-day vacation to deal with her stress. The stress itself was a result of Sudeikis and Wilde's breakup, which caused Genaro to take on significantly more work and resulted in Sudeikis having a "tendency to seemingly require Plaintiff to stay up at night after the kids were put to bed to talk."
Genaro's legal team alleges that she was hired as a live-in nanny in 2018 by Wilde, Sudeikis, and ML Management, which would approve her expenses and periodically give her direction. Wilde "abruptly left the home" in November 2020, the suit alleges. On October 17, 2022, an unidentified former nanny spoke with the Daily Mail, referencing a now-infamous November 15, 2020, interaction in which Sudeikis allegedly said, "She made this salad, and she made her special dressing, and she's leaving with her salad to have dinner with [Harry Styles]." Wilde all but confirmed this by posting an Instagram story of the "special dressing" recipe from Nora Ephron's book Heartburn a day later.
In late November of the same year, Genaro allegedly asked to have a private one-on-one with Wilde to tell her about her anxiety. Sudeikis later recounted it to Genaro, she claims, revealing that Wilde had shared the details with him. "Do you trust me?" he allegedly said, in what the suit claims was "part 'gotcha,' part threat and part confirmation Plaintiff was on Sudekis' side." The continued stress of the breakup and tabloid focus on the incident made Genaro worry, darling — to the point that she says she was experiencing physical pain along with her stress and anxiety. She claims she told Sudeikis about those issues and that both Sudeikis and Wilde "agreed to engage in group therapy with Plaintiff via both remote sessions and group text messages with Genaro," the suit alleges. The same therapist referred Genaro to an osteopath.
With the osteopath's support, Genaro decided to leave the job, which she allegedly informed Sudeikis of in February 2021, giving him five months of notice in order to allow time for a new nanny to be found. The next day, Genaro was prescribed a three-day leave from her work for Sudeikis and Wilde — including '"radio silence' from everyone." The osteopath then allegedly relayed this prescription to the group therapist, who told Sudeikis, who then promptly messaged Genaro anyway, the lawsuit claims. When Genaro reinformed Sudeikis of the prescription, he allegedly fired her and told ML Management to remove her from his property and put her up in a hotel. Vulture has reached out to Wilde's and Sudeikis's teams as well as ML Management for comment without response. Not every celebrity-nanny pairing can have a relationship like Melanie Lynskey and Celli.