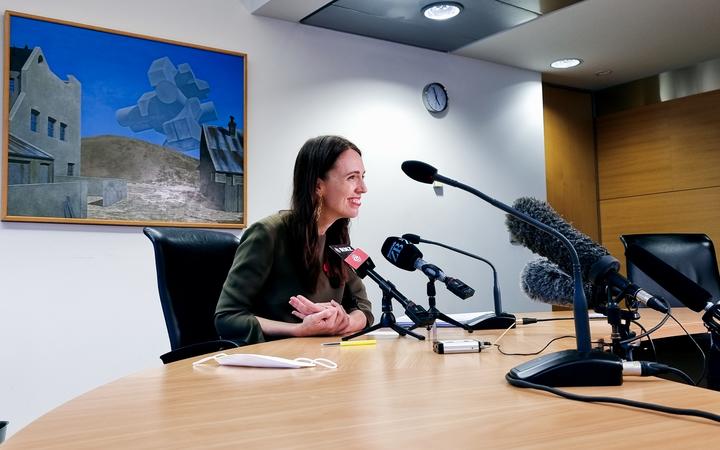 Power Play – Few prime ministerial trips have seemed so long in the coming – and still so uncertain – after a nearly 800-day hiatus from international travel.
The trip to Singapore and Japan will be Jacinda Ardern's third attempt at breaking free of Fortress New Zealand since the pandemic began in 2020.
A skip across the Tasman last year was called off after a Delta outbreak in Australia and plans to visit Europe were similarly iced as the variant spread through New Zealand.
Even now, just days out from departure, the trip could be derailed by a positive pre-departure test. Returning a positive test while in Singapore would be even more problematic, requiring a stint of isolation abroad, and the inability to then travel on to Japan.
Trade Minister Damien O'Connor, also attending, is standing in the wings to step in if that does eventuate.
"It's the reality of travel today," Ardern told reporters in a pre-trip interview. "Now is the time to get out and about, to support our exporters, and so we're willing to take on board the risks."
Some have criticised Ardern for not taking that risk earlier, accusing her of neglecting the country's international relationships.
The travel hiatus has stretched so long Ardern discovered her diplomatic passport had expired and needed renewing.
For comparison, Australian Prime Minister Scott Morrison made seven trips abroad last year.
But Ardern is unapologetic.
"We've had some points during New Zealand's navigation of the pandemic where it just wouldn't have been right to be anywhere else but here," Ardern said.
"This is the year that we will back out re-engaging face-to-face… or mask-to-mask."
In February, Ardern signalled her intention to lead trade delegations to Europe, the United States, Asia and Australia this year.
A wish-list of destinations was sent to officials and planning began in earnest, with the travel agenda shaped by domestic and international considerations.
Australia and France are both embroiled in election campaigns, and China's Covid-19 restrictions makes it hard to envisage a trip there soon.
A US visit is set for May to allow Ardern to deliver a "commencement address" at Harvard University's graduation ceremony.
And so Japan and Singapore rose up the list. Officials would have liked to squeeze in a visit to Korea too, but its recently concluded presidential election made that logistically difficult.
Timing this mission to ensure "best bang for buck" was also critical. Japan has only recently begun easing border restrictions, meaning a visit several months ago would have meant a far slimmer delegation.
Now, Ardern can bring with her a 12-strong business delegation stacked with high-powered executives to drive a key purpose of the mission, promoting trade.
"It's a chance to promote New Zealand, to demonstrate that we're reconnecting, and that we're back in business," Ardern said.
Japan and Singapore are already the country's fourth and fifth largest trading partners, but New Zealand sees room to grow that further.
Trade will feature heavily in Ardern's discussions with her Japanese and Singaporean counterparts, including the possibility of enticing the US to join the trans-Pacific trade agreement (CPTPP).
More broadly, Ardern will also want to raise security concerns, including Russia's invasion of Ukraine and China's influence in the Pacific given its recent efforts to secure a security pact with Solomon Islands.
"We'll share from our perspective that we are in an increasingly contested region," Ardern said.
"Some of the ways that we can ensure that there is resilience in our region is actually some of the economic relationships that exist in our part of the world."
Along with trade and diplomacy, the visit is an opportunity to encourage tourists to visit New Zealand as our borders open further next month.
Tourists from both countries will be free to arrive from 2 May.
Ardern will be making local media appearances and leveraging off New Zealand's Covid-19 response. She noted research suggesting those abroad now see the country in a more favourable light.
"They see us as people who look after others, and that's a really important message to send," Ardern said.
"Come to New Zealand, we're kind."
Ardern is set to leave the country on Monday and will return early Sunday.
https://www.rnz.co.nz/news/political/465384/prime-minister-jacinda-ardern-fronts-up-on-first-overseas-trip-since-2020