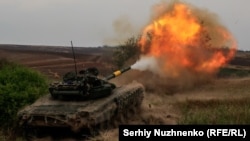 Ukrainian President Volodymyr Zelenskiy has rebuffed criticism over the slow pace of Kyiv's nearly three-month-long counteroffensive to retake territory occupied by Russia.
Live Briefing: Russia's Invasion Of Ukraine
RFE/RL's Live Briefing gives you all of the latest developments on Russia's full-scale invasion, Kyiv's counteroffensive, Western military aid, global reaction, and the plight of civilians. For all of RFE/RL's coverage of the war in Ukraine, click here.
"Ukrainian forces are moving forward. Despite everything, and no matter what anyone says, we are advancing, and that is the most important thing," Zelenskiy wrote on Telegram. "We are on the move."
The comments came after unidentified U.S. officials expressed frustration at the progress of Ukraine's counteroffensive, backed by Western military equipment and training.
Following the criticism, U.S. officials and British intelligence have noted gains by Ukrainian forces as they attempt to break through heavily fortified Russian defenses in Ukraine's southeast.
On September 1, the United States said that Ukrainian forces had made progress in the Zaporizhzhya region in recent days.
"They have achieved some success against that second line of Russian defenses," White House national security spokesman John Kirby said. He also acknowledged criticism of Ukraine's counteroffensive "by anonymous officials," saying this was "not helpful."
"Any objective observer of this counteroffensive, you can't deny…that they have made progress now," Kirby added.
In an intelligence assessment issued on September 2, the British Defense Ministry said that the Ukrainian military had reached Russia's main defensive line in parts of southern Ukraine and that Russian forces were fighting to halt the counteroffensive.
British intelligence said that the Russian military was continuing its own offensive in the north, near Kupyansk, in Ukraine's northeastern Kharkiv region.
While "Russian forces are likely trying to distract Ukraine from its counteroffensive" by forcing Kyiv to split its forces, the assessment continued, Russia risks dividing its own forces as it seeks to prevent a Ukrainian breakthrough.
On September 2, Russia said that its forces thwarted three sea drone attacks on the strategic Crimea Bridge linking Ukraine's occupied Crimean Peninsula to the Russian mainland, as Ukraine's military said it was continuing its push to cut off the land bridge to Crimea in Ukraine's southeast.
One attempt by Ukraine to strike the Crimea Bridge was made on the night of September 1, and two others on September 2, according to the Russian Defense Ministry.
Ukraine has not yet commented on the attacks, which reportedly blocked traffic on the bridge for three hours.
Kyiv has repeatedly stated that it considers the rail and vehicle bridge used to supply Russian forces fighting in Ukraine to be a legitimate military target.
Oleksiy Danilov, Ukraine's secretary of the National Security and Defense Council, told national radio on September 2 that Kyiv's forces are now capable of reaching targets in Russian territory that are up to 1,500 kilometers away using its own weapons as Ukraine continues to develop its missile and drone programs.
Russia has attempted to hinder Ukraine's ability to strike the bridge with barriers, including sunken ships, following a July attack that damaged the road section of the bridge.
The attacks came as the Ukrainian military said its forces were continuing their push in the direction of the southeastern city of Melitopol in an attempt to cut off a land bridge connecting occupied Ukrainian territory to the Crimean Peninsula, which Kyiv has said it intends to take back after it was illegally annexed by Russia in 2014.
Meanwhile, Ukraine's military intelligence said on September 1 that a recent drone attack on an airport in northwestern Russia that damaged several transport planes was carried out from within Russian territory.
The attack this week on Pskov airport, around 700 kilometers from Ukraine, marked the latest strike on Russian territory since Kyiv vowed in July to "return" the conflict to Moscow.
"Four Russian IL-76 military transport planes were hit as a result of the attack. Two were destroyed and two were seriously damaged," Ukrainian intelligence chief Kyrylo Budanov said.
With reporting by AFP