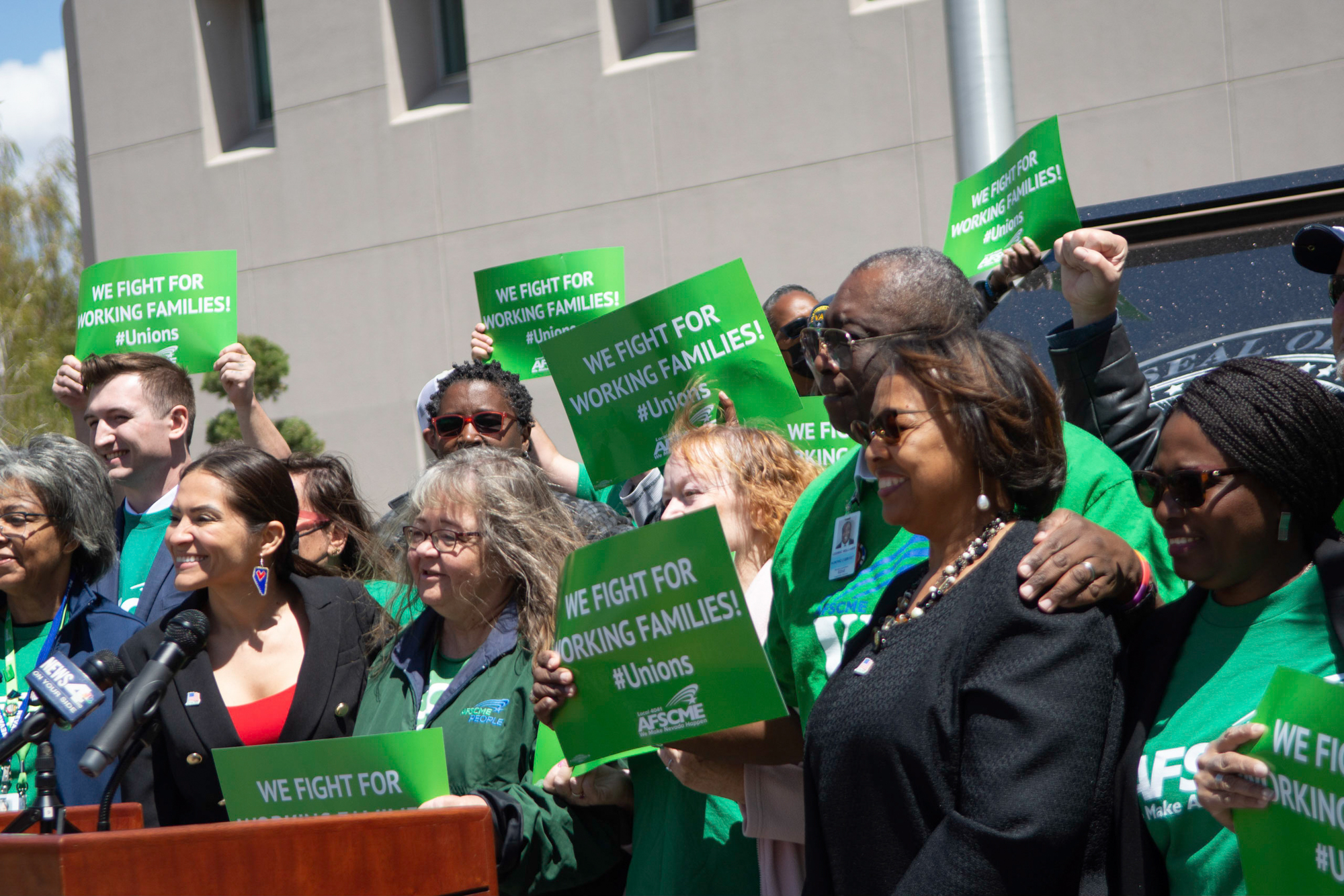 AFSCME, a major government employee union, announced late Tuesday that it sued Gov. Joe Lombardo in state district court over his veto of a bill that would have funded a pay increase awarded to state workers as part of a 2021 arbitration agreement. 
The group, one of the largest unions representing state workers in Nevada, also said it sued Lombardo over his vote against approving a collective bargaining agreement during a Board of Examiners meeting in May — a move the union cast as "a violation" of collective bargaining rights. 
The legal actions mark the latest escalation in a fight over a $25 million arbitration agreement that has now stretched two years — and two governors. 
This year, SB440, sponsored by Senate Majority Leader Nicole Cannizzaro (D-Las Vegas), would have appropriated roughly $25 million to fund a number of pay increases included in union contracts approved in 2021. Those agreements went unpaid at the time because they were handed down after the legislative session had already ended. 
The bill was also among a record 75 measures vetoed by the Republican governor earlier this year. In his veto message — issued in June — Lombardo argued the measure would "create perverse incentives regarding employee pay."
"The State would not be well-served by setting a precedent that employees will receive retroactive non-binding arbitration awards during subsequent legislative sessions," Lombardo wrote at the time. 
A spokesperson for Lombardo's office did not immediately respond to a request for comment. 
In a statement, AFSCME Local 4041 member Heike Rüdenauer-Plumber argued that the arbitration agreement was binding "regardless of who is elected governor."
"In filing these actions, we are protecting our right as workers to negotiate a binding contract," Rüdenauer-Plumber said. 
AFSCME Local 4041 represents more than 17,000 state workers in Nevada across four bargaining units, including maintenance, custodial, engineers, scientists and certain office and health care workers. 
The union's complaint was filed by attorney Nathan Ring, who is Cannizzaro's husband. Ring has represented other unions in Nevada, including serving as general counsel for the Nevada State AFL-CIO and the Southern Nevada Building Trades Union.
How we got here
The latest fight over state worker arbitration pay comes as the latest chapter in a long-running partisan feud over state employee bargaining law. 
Under Democratic Gov. Steve Sisolak, Democratic lawmakers moved to authorize collective bargaining for state workers for the first time in 2019. The first bargaining units of state workers were organized and recognized by the state in 2021. But the bargaining unit for the state police reached an impasse in negotiations, sending matters to an arbitrator that summer. 
That arbitrator later awarded the union a 2 percent pay bump — and new contracts for the Nevada Police Union and four bargaining groups represented by AFSCME were approved by state officials in March 2022. But the pay increases were only effective on paper, as any new appropriation of state money needed to be approved by the Legislature (which was out of session at the time). 
In arguing for the bill during a floor vote in April, Cannizzaro painted the arbitration payments as an obligation, rather than a choice. 
"Otherwise we are saying that particular portion of the Nevada Revised Statutes (NRS), whether we agree with it or not, is something that we're just not willing to enforce, that is void," Cannizzaro said at the time. "And if that is the case for that portion [of the NRS] then it is also true, and could be true, of any portion of the Nevada Revised Statutes." 
But legislative Republicans and the governor's office disagreed. Sen. Heidi Seevers Gansert (R-Reno), the Senate minority leader in 2023, said during that same floor vote that the measure would create a disparity between workers in the bargaining unit and those out of it.
After passing through the Senate on party lines, SB440 then stalled for weeks in the Assembly, where Democrats hold a supermajority. At the time, Speaker Steve Yeager (D-Las Vegas) cited "logistical" issues with the bill, while Cannizzaro later accused the governor's office of dragging its feet.
At issue then: Whether the governor's office could even identify which state workers would qualify for the arbitration pay. 
Cannizzaro argued at the time that the issue should not have been an "insurmountable barrier." Lombardo's office, in response, criticized Democrats for not increasing state police pay during the pandemic-affected 2021 session.  
Assembly Democrats eventually amended SB440 to remove language unrelated to fulfilling the arbitration agreements, including an additional proposed 2 percent raise for all state workers. The bill was passed along party lines again, Democrats in favor, ahead of Lombardo's veto.
This is a developing story. Check back for updates.
Update: 9/5/23 at 5:45 p.m. — This article was updated to include a copy of the lawsuit, as well as add information about AFSCME's legal representation.