'Urgent questions' about Uvalde massacre have not been answered, Texas newspaper editor says
7 min read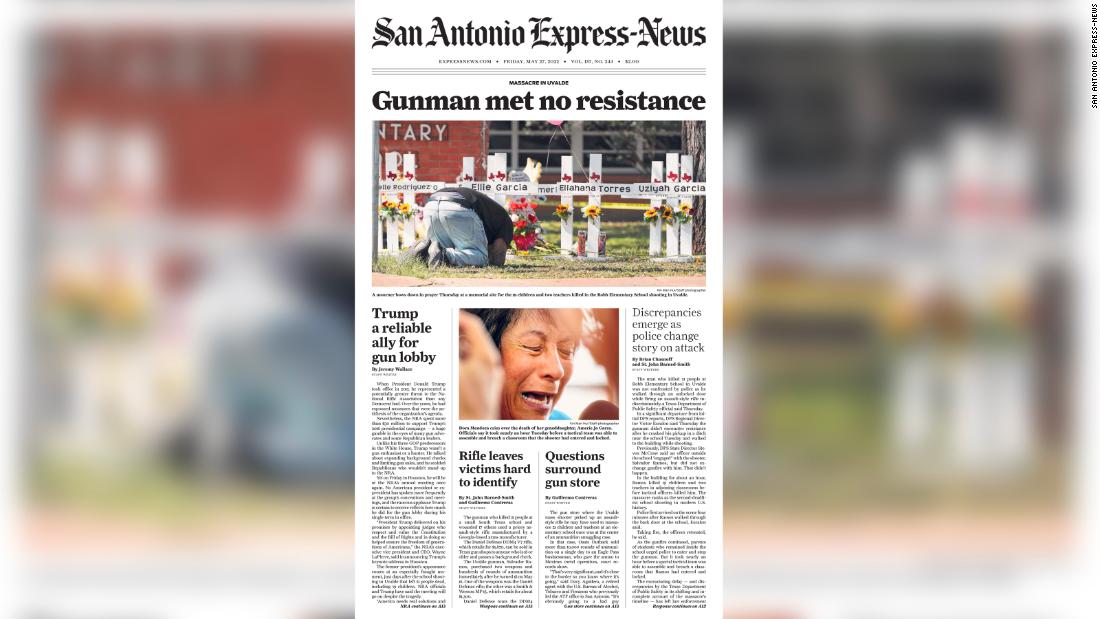 Government statements are not adding up. Gaps and discrepancies are raising alarms. Elected officials are failing to answer the public's questions.
This is a moment when journalists are needed. And a moment when journalists have to get it right.
Unfortunately the subject matter is utterly heartbreaking: The deaths of 19 children and 2 adults at Robb Elementary. How was the gunman able to murder so many people? Why wasn't he stopped sooner? Who was responsible for the police response? Why were so many of the initial accounts incorrect, according to newer statements? What should we believe?
Questions about the police response were front and center all day Thursday, due in large part to parents who
spoke up
, backed up by amateur video clips of Tuesday's chaotic crime scene. Most of their questions have not been answered. Frustrations have been boiling over. "We've been given a lot of bad information," CNN's Shimon Prokupecz
said
at Thursday afternoon's press conference. "These parents deserve to know exactly what happened, minute by minute, to their children," Anderson Cooper
said
to Prokupecz later in the day.
The questions have, of course, triggered discomfort and defensiveness. When I turned on "Fox & Friends" on Thursday morning, I heard Ainsley Earhardt saying "it's easy for the media in New York or California to place judgment on what's happening." But her comment missed the point — members of the media on the ground in Texas are the relevant questioners. I checked in with Marc Duvoisin, editor of the San Antonio Express-News, the daily newspaper closest to Uvalde. He agreed with my perception that Thursday was a turning point in the coverage of the shooting.
"Urgent questions about the police response to the massacre have not been answered with clarity or consistency, and residents' frustration began to boil over on social media," Duvoisin said in an email message Thursday night. "The information gap became a partisan talking point, and elected officials began to demand answers and an investigation."
Let me quote Duvoisin in full:
"This afternoon's briefing by an official of the Texas Department of Public Safety answered some questions about the police response, but left considerable confusion. Why was the door to the school unlocked that morning? Unknown."
"The day before, DPS officials had said a school police officer confronted the gunman before he entered the school. At today's briefing, a DPS official said the opposite: the gunman entered the school without facing resistance. Police officers got there several minutes later. Why did it take an hour for a SWAT team to assemble and force its way inside: 'That's a tough question.'"
"Information about the incident has been tightly controlled from the very beginning. Throughout the day Tuesday, Uvalde police were tightlipped about the casualty count. So were local hospitals. It wasn't until late Tuesday afternoon that the scope of the carnage was made public — by the governor of Texas, Greg Abbott. In my experience, that is unusual. In a mass casualty event, I'm used to seeing the head of the principal responding agency brief the media, often several times a day."
Duvoisin helped direct coverage of the 2015 terrorist attack in San Bernardino, and back then, reporters were briefed by the city's police chief. "They did not have to wait on the governor of California to get the facts," he said. "I think the shortage of information has created frustration, and that frustration was compounded on Wednesday when Greg Abbott and Lt. Gov. Dan Patrick and others went to Uvalde to hold a news conference. Abbott praised the first responders, expressed sympathy for the victims and talked in general terms about the importance of mental healthcare. But he revealed very few details about what actually happened inside that school."
Where is Abbott now?
On Wednesday, the Texas governor talked tough while confronted by Beto O'Rourke. On Thursday, Abbott was nowhere to be seen. Questions hung in Uvalde's 90-degree air. Every possible explanation only made the pain worse. CNN national security analyst Juliette Kayyem's words stuck with me: She hit on the fact that Texas authorities initially talked about how much "worse" the attack could have been. "We are hearing that things could have been worse, which is always true," Kayyem wrote. "The question is whether things could have been less bad. And I fear the answer could be yes."
Maybe on Friday. Abbott — who was scheduled to speak Friday at the first day of the National Rifle Association's annual meeting — is canceling his in-person appearance to attend a Friday afternoon press conference in Uvalde. He will speak to the convention virtually instead.
Erasing any chance at common ground
I caught some flak on Twitter for saying that the immense confusion about the attack timeline will make it even harder to find any common ground because some people will stick with the original "facts;" others will believe the new info; others will tune it out; and others will disbelieve it all.
I admit that common ground is all but impossible. But how about a relatively shared understanding of the most basic facts? This week's confusion is causing a gaping void. Conspiracy theories about the attack are already spreading among folks who are inclined to believe mass shootings are gun-seizure plots. Claims about a massive coverup are already spreading among folks inclined to believe that. Journalists will get to the bottom of this, but by the time all the facts are assembled into a whole, the disinfo sphere may have won…
Further reading
My interview with Texas Tribune's EIC
My guest on this week's "Reliable Sources" podcast is Sewell Chan, editor in chief of The Texas Tribune, one of the country's foremost nonprofit newsrooms. He recounted how his staff had fanned out across the state to cover Tuesday's primary when they had to pivot to the mass murder in Uvalde. He has been trying to make sure that staffers take mental health breaks amid marathon reporting days. "All editors and news managers have to think about the wellbeing and safety of our employees," he said. "Not just getting the story but also making sure that…we're able to talk about what we're processing."
Showing instead of telling?

https://www.cnn.com/2022/05/27/media/uvalde-shooting-reliable-sources/index.html