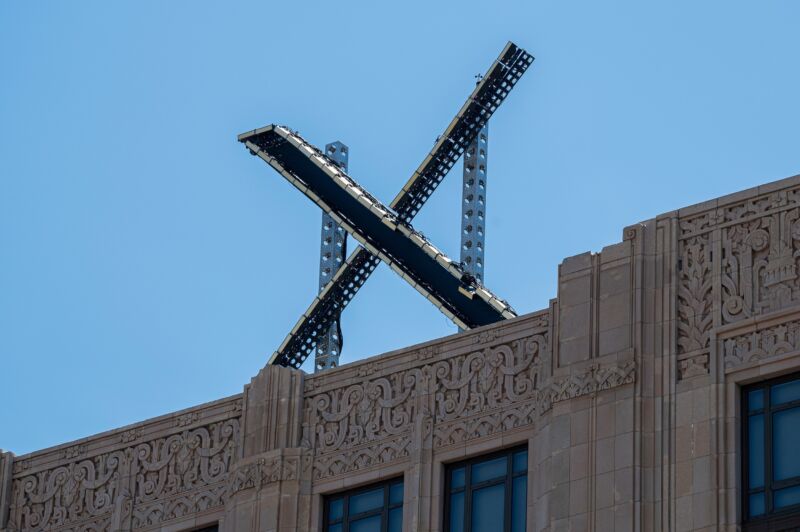 Elon Musk's X Corp. has reportedly agreed to settlement talks on arbitration claims from about 2,000 employees laid off after Musk purchased Twitter in October 2022.
"After 10 months of pressing them in every direction we have succeeded in getting Twitter to the table," attorney Shannon Liss-Riordan wrote in a memo to clients that was quoted in a Bloomberg article today. "Twitter wants to mediate with us in a global attempt to settle all claims we have filed."
Bloomberg said it obtained the Liss-Riordan memo from a former Twitter employee. The memo reportedly said that private negotiations with a mediator are scheduled for December 1 and December 2.
"X is complying with a court order to mediate, a person familiar with the matter said, asking not to be identified discussing private information," Bloomberg wrote.
An X Corp. attorney said in an August 28 court filing that "Twitter has received more than 2,200 individual demands for arbitration." A CNBC article said that the "filing fees alone for that volume of cases could amount to $3.5 million." X has been trying to avoid paying the full cost of arbitration, arguing that "arbitration costs be apportioned equally between the Parties for any arbitrations pending in jurisdictions where fee-sharing is lawful."
Twitter forced ex-employees into arbitration
The agreement to mediate comes a few months after Twitter allegedly refused to pay for arbitration costs despite forcing ex-employees to pursue arbitration instead of lawsuits. Liss-Riordan has filed several class actions on behalf of former Twitter employees, and one on behalf of vendors who say Musk has refused to pay the company's bills.
A class action filed in November 2022 alleged that Twitter (which was recently renamed "X") violated the federal and California Worker Adjustment and Retraining Notification (WARN) Acts. The WARN laws require 60 days' advance written notice before a mass layoff. The lawsuit sought financial damages, alleging that laid-off employees weren't given severance or the required notice.
In January 2023, a federal judge granted Twitter's motion to force plaintiffs into arbitration because the ex-employees had not opted out of the company's arbitration agreement. While the class action has continued with ex-employees who opted out of Twitter arbitration, Liss-Riordan filed many arbitrations on behalf of individuals laid off from Twitter.
In July, Liss-Riordan filed a lawsuit alleging that Twitter refused to pay for arbitration despite previously demanding that ex-employees arbitrate instead of litigate their claims. "Twitter has refused to engage in arbitration—despite having compelled employees to arbitrate their claims," the lawsuit in US District Court for the Northern District of California said.
Twitter "refuse[d] to proceed with arbitrations"
"Approximately 2,000 of Twitter's former employees have attempted to pursue arbitration claims against the company, following Twitter's successfully moving to compel arbitration in several federal class action cases in court against it," the July lawsuit said.
But while Judicial Arbitration and Mediation Services rules require the employer to pay arbitration fees, Musk's company on June 2 "request[ed] that all arbitration fees be split equally among the parties," the lawsuit said. On June 28, Twitter sent another letter stating that "Twitter would refuse to proceed with arbitrations in most states outside California," and "attached a list of 891 arbitrations in which it was refusing to proceed," the lawsuit said.
Allegations against X include "failing to pay laid-off employees promised severance payments, discriminating against employees on the basis of sex, race, age, and disability, failing to pay promised bonuses, violating the WARN Act (Family and Medical Leave Act) and FMLA, and other violations," the lawsuit said.
"We are very proud to be representing nearly 2,000 former Twitter employees, in individual arbitrations as well as more than a dozen class action lawsuits in court," Liss-Riordan said in a statement yesterday, according to Bloomberg. "We are working hard to recover what they are owed."
We contacted Liss-Riordan and X today and will update this article if we get more information about the upcoming mediation.